This is a presentation of my former band:
Tempus Fugit
When did you last hear of a band which existed for 22 years and finally succeeded in making a CD? Well - Tempus Fugit is one of those and performed fusion-music with heavy Latin American undertones.
The band members were:
Kim Fόchsel …...........………….. Guitars
Michael Givskov ……...........……….. Bas
Henrik Lykkegaard …………….. Trommer
Erik Hoeirup …………........….. Tangenter
Klaus Thormann …….......……….. Flψjter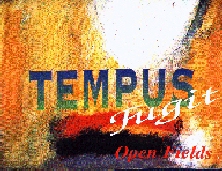 The concept we had:
We were driven by the indefinable and wonderful aspects hidden in music, and held on to it as a lightning conductor from our busy every day life.